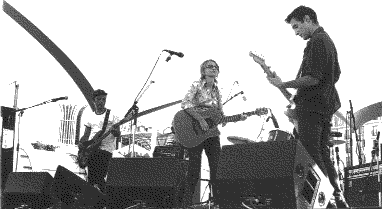 Reste...
... une minute encore
This page is dedicated to the french band Autour de Lucie. It is still in an early stage of development, I hope to tremendously improve it in the coming months. It currently contains :
Last upadted: July, 20th (new concert dates)
Le village vert
Autour de Lucie is under contract with the independant label Le village vert (the green village). Others artists on the same label are Mercedes Audras, Parades, Michael Head (ex-Pale Fountains),... A good way of discovering these artists is to order the compilation they recently released.

I have no connection with the band so don't send messages to get interviews or signed photos. On the contrary if you have live recordings or photos, comments on this site or suggestions to improve it, you are welcome to send me a message.
---
Autour de Lucie is distributed by Nettwerk in the USA and in GB. Check their site it is worth it!
---
Yves Denneulin