LATEST NEWS
Last updated: May 12, 2001
---
Tour Dates| Hot News

| Upcoming Ectogathers| Misc./Old News | URL-Minder
---
TOUR DATES
Happy will also be touring with Project Lo in July. Keep an eye on this page for details.

---
HOT NEWS
Do you have any ecto-related news to post to this page? Contact Meredith Tarr to get your listing up!
[5/12/01] EctoFestWest Update: Sunday House Concert Details
On Sunday, June 10 Phil Hudson will host a day-long house concert in his beautiful backyard in Boulder Creek, CA. Performers confirmed so far:
Wendy Rule
Cyoakha Grace
Pipa Pinon
Piper Maru
Phil Hudson/Bill Mazur
Previously Lost Dogs
Arbel & Janathon
Other artists may still appear.
The music will begin at 2:30 pm, and continue until around 10:00. Admission is a mere $10 suggested donation. Please RSVP to Phil Hudson if you plan to attend, so he can keep tabs on the parking situation. For more details, please see here.

[5/12/01] EctoFestWest Update: Tickets On Sale in Santa Cruz
Shelly De Forte reports:
For those of you who live in the Santa Cruz area but have not yet purchased tickets for EctoFestWest, they are now
available at Streetlight Records in downtown Santa Cruz. Streetlight does not charge any extra fee, so the tickets are still $20.

[5/12/01] EctoFestWest Update: Related Activities
Some of the performers lined up for EctoFestWest are adding other Northern California performances around the time of the event. To help in travel planning, we will keep track of them here.

[3/17/01] Happy To Participate in NYC Performance
Happy will be performing as part of a multimedia show called "The Water Wheel" by Eric Nicolas, at 9 p.m. on March 22, 23 and 24, and at 8 p.m. on the 25th. Happy does not have a huge part...she's singing back up and did the pre-show electronic music (there is a 1 hour pre-show reception). The theater is at 205 N. 7th St, Brooklyn. For more info, call 718-599-7997.

[3/6/01] Another EctoFestWest Update: Lineup and Tickets
The final EctoFestWest lineup is set!
Jill Tracy, Two Loons For Tea, Cyoakha Grace, and Veda Hille will be joining Happy for one amazing night of music.
Cyoakha will be joined on stage by members of her groups Land Of The Blind and Azigza.
Happy plans to do an 80-minute, full-band set showcasing all-new material.
The official web site is online at www.ectofest.org/west. Tickets are now on sale, for $20 each. See here for details.

[3/6/01] Happy Tribute Album To Celebrate ecto's 10th Anniversary
To celebrate the 10th anniversary of the founding of the ecto mailing list, musician members of the list are putting together a CD of versions of Happy's songs. Contributors will include Cyoakha Grace, Bill Mazur, and Phil Hudson, among others.
Songs currently anticipated to appear on the CD include "Save Our Souls", "Feed The Fire", "Ode", "Temporary and Eternal", and "I'm Not Awake, I'm Not Asleep".
If all stays on schedule, the CD should be completed by the anniversary date, June 18th. Stay tuned for updates!

[3/6/01] ectofest 2001 Date Set
ectofest 2001 is planned for Saturday, August 25 in Danbury, CT. This is a week earlier than usual, so those who have been unable to attend due to Labor Day weekend plans can make it this year. Mark your calendars!
Further details will be posted at ectofest.org when they become available.

[12/12/00] Carl Adami Releases Album
Happy's longtime "liquid bass" player, Carl Adami has released an album as part of a group called Outloud Dreamer, called Drink The Sky. Information, sound samples and order info can be found at outlouddreamer.com.

[11/7/00] Happy Launches Official Web Site
Happy has launched her official web site: auntiesocialmusic.com. It's chock-full of news and information about Happy, and moreover, all of her releases are available for sale there, including the elusive Rhodes I and Rhodes II! Go forth and surf!

[11/5/00] Announcing Ectofest West!
A group of San Francisco Bay-area ectophiles are busily planning the first Ectofest West, scheduled for June 9, 2001 in Santa Cruz, CA. Confirmed performers so far include Happy and Mary Lydia Ryan, with many other very cool artists under consideration. Watch this space for further details as they are released.

[11/5/00] Happy At Work On Next Album
Happy is currently at work on her eleventh album. There is no target release date yet, but it looks as though it will be released on her own brand-new label, Auntie Social Music. Judging from the two new songs she performed with Project Lo in October, we're in for yet another collection of musical goodness.
Please also keep an eye on Sharon Nichols' Terra Incognita page for all the latest.

---
UPCOMING ECTOGATHERS
[4/21/01] EctoFestWest
EctoFestWest promises to be the biggest gathering of ectophiles in several years. Folks are coming in from all over the country, and many are planning to be in the area for several days on either side of June 9. There is sure to be a big group of ectophiles at each of the events listed at the top of this page.
In addition, ectophiles meth and woj are trying to get a group of people together to go for a sail around San Francisco Bay on Adventure Cat. Spending 90 minutes cruising the Bay on a 52-foot Catamaran is one of the coolest things you could possibly do while you're in the area. It looks like a sunset cruise on June 11 or an afternoon cruise on June 12 are the best bets. If you're interested in joining in, e-mail meth.
E-mail me if you'd like to advertise your get-together here!

---
MISC./OLD NEWS
IT'S HERE!!!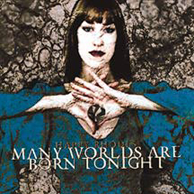 Happy's eighth album of new material (and tenth overall), Many Worlds Are Born Tonight was.released by Samson Music on August 11, 1998. Please be sure to check out their Happy page for information about Happy, the album and a yet-to-be-provided list of tour dates.
There have been numerous reports on ecto of difficulty in finding the album in stores across the US. If you have a similar tale of woe, please e-mail Samson to let them know the town and the store(s) you checked in vain, so they can remedy the situation.
Happy In Print!
According to Samson, Happy will be receiving coverage in the following publications:
Crossroads Magazine (August 1998 issue): Album Review
CMJ (August 10th issue): Album Review
Gavin (August 3rd issue): Album Review
Don't Forget -- Happy on the radio!
The first single, "Roy (Back From The Offworld)" has been serviced to college, alternative, and AAA radio stations across the country. For a list of the stations that have added it and/or the album so far, click here. Call your local station and bug them to play it now! If you have a suggestion for a radio station in your area that you think would be a good candidate to receive the single and album but is not on this list, please e-mail me and I'll forward the info to Samson.
In addition, the nationally syndicated radio show Echoes has been giving the new album quite a bit of airplay. John DiLiberto has always been a big fan and supporter of Happy's music. Check out the Echoes web site to see if it's on a public radio station in your area. If you do hear Echoes, be sure to drop them a line and let them know how much you appreciate their support of Happy, so they'll know it's worth it for them to keep her on their playlist.
Other News
[1/8/01] EctoFest West Update

The lineup for EctoFest West is currently as follows: Happy Rhodes, Cyoakha Grace, and Jill Tracy. Unfortunately Mary Lydia Ryan had to drop out due to the fact that she's going to be having her baby any day around then! We're happy for Mary Lydia, and wish her and the baby the best...

Stay tuned for more announcements as they come. The official web site will be launched at ectofest.org soon.
[7/29/00] Happy To Perform At ectofest 2000

The organizers of ectofest 2000 are pleased to announce this year's lineup, which includes Happy once again! This is sure to be a very special performance. Do not miss this event!

[7/29/00] Happy To Tour With Project Lo This Fall

Happy will be going back out on tour with Project Lo starting in October. See the Project Lo web site for more information.

[7/8/00] Happy Dropped From Samson

It's official -- what fans had feared from her conspicuous disappearance from the Samson Music home page is true. Happy has been dropped from the Samson label.

Terra Incognita's Sharon Nichols posted the following details:

As some of you may know, Happy was signed to Samson Music a while back.
Since that time, Samson has split into three labels: 1) Triloka, a world
label that Gold Circle Entertainment bought; 2) Samson Music, which is
now a soft jazz label; and 3) Brick Red, which caters to rock.

Happy, hard at work on her eleventh album, was to continue her career
with the company. Samson, unfortunately, recently decided that her music
didn't fit into any of the three new categories, and she was dropped
from Samson. As some of you may already feel, this is probably the best
thing for Happy as Samson wasn't really pushing her career as expected.
So, Happy is now without a record label.

The pages of the ecto mailing list are now buzzing with suggestions from fans as to a label that would be a good artistic and promotional match for Happy. If you are not an ectophile (what Happy fan wouldn't want to be?) and want to join in, feel free to sign up.

[7/31/99] Happy on Samite Album

Happy provides vocals on the title track of the new Windham Hill release Stars To Share, by Samite, an artist from Uganda. There is a sample of this song at http://www.windham.com/recordings/01934-11426-2.html. Even though she's not credited anywhere on the site, that is definitely her!

[7/31/99] Ectopia Now Available

Ectopia, the compilation of original music by ectophiles is now available! See here for ordering details.

[7/22/99] Happy In Billboard!

The dance remix single of "Roy (Back From The Offworld)" is in this week's Billboard magazine. It's on page 39, listed in the DANCE BREAKOUTS box. If anyone hears "Roy" in a club, please drop your humble webmeister a line with a review!

[7/9/99] Announcing ectofest 99!

Ectophiles Chuck Stipak and Meredith Tarr are organizing a music festival in Danbury, Connecticut on Labor Day weekend, to benefit two local charities. Performers confirmed at the moment include Rachael Sage, Sloan Wainwright, and Happy, with more to be announced shortly. This promises to be the ecto event of the decade, if not the millenium. ;) See the official ectofest 99 web site, www.ectofest.org for all the details, and start making those travel plans now!

[6/25/99] Serenading Genius Discussion List Created

Kelesyn has created a discussion list for Happy fans called Serenading Genius, a list "dedicated to the brilliant and lovely singer/poet Happy Rhodes. This list is a tribute to Happy and to all who listen to her music. The goal of the list is to network Happy fans everywhere, and is not intended to compete with any other list that may exist, but simply to amplify discussion, fellowship, and insight."

To subscribe, go to http://www.onelist.com/subscribe/Serenading_Genius.

[6/24/99] Announcing An Ecto Compilation!

The first compilation of original music by ectophiles is nearing completion! For more information on what's on the disc and how you can get yourself a copy, see here.

[6/20/99] Vote for Happy!

In celebration of 10 years on the air, the Public Radio International program Echoes is conducting an online poll to determine the 25 Favorite Echoes Artists of the Decade. The 25 artists selected will be featured in a special edition of Echoes in October. The show's host, John DiLiberto has been a very strong supporter of Happy over the years, so it only makes sense to get her on this list. To cast your vote, go to http://www.echoes.org and follow the instructions there.

[6/20/99] Bon Lozaga On The Bill At The Tin Angel

Bon Lozaga (of Gongzilla and Project Lo) will open the show at the Tin Angel on July 24. He will also sit in with Happy's band on guitar. It's also been reported that Happy will be performing with Project Lo in November - stay tuned for more details!

[6/20/99] More Shows To Come?

There are rumblings that more shows are in the works for the early fall. As soon as we know, you'll know.

[4/11/99] Happy's Albums In Europe?

Both Marcel Rijs (in the Netherlands) and Dirk Kastens (in Germany) have reported finding evidence of Happy's releases in Europe. Marcel found a release of Many Worlds Are Born Tonight in his local library, on Gold Circle. And Dirk reports that at JPC there are all 10 of Happy's CDs listed in the online catalog as being on the Samson label, and not as imports. There is no independent confirmation that these albums are actually available from JPC, but if you're a Happy fan in Europe, you might want to check it out. As soon as any more specifics about European releases surface, I'll post the info here.


[12/3] Sadly, Sharon Nichols has announced the discontinuation of the print version of Terra Incognita, the Happy Rhodes fanzine. The web site will continue, however. Many thanks to Sharon for putting out a truly first-class publication for the past 5 years.
[9/07] Jim Foley of KXCI in Tucson, AZ has written a review of Many Worlds Are Born Tonight. It can be found here.
[9/07] A couple of ectophiles have set up an ecto channel at Imagine Radio. Check it out!
The Ecto CD Trading Post is online! Looking to buy, sell, or trade ectophilic CDs? If you're a member of the ecto list, drop a note to Bill for more info on the newest way to share your EWS with the world.
---
THE URL-MINDER
---

Back to the Ecto Home Page