in the unlikely event that anyone cares...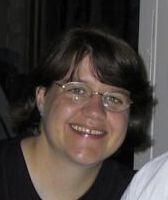 Hi! I'm Meredith, otherwise known on the net and to my family and a select group of friends as meth. I live in New Haven, Connecticut, a refreshingly Blue State in what's left of America with my soulmate, life partner, SO, or whatever you want to call him, woj. We are owned by an exceedingly cool cat named Puck and a male orange tabby named Tam Lin (Tam for short, a.k.a. Doofus, Stinky Butt, and Demon Kitty) who was born on May 5, 1996 and joined the family six weeks later. They both keep our lives even more interesting than they would be otherwise.
I was born on September 1, 1971 in Lewiston, Maine, and lived across the Androscoggin River in Auburn until the age of 14. After barely surviving nine years of Catholic education and indoctrination at Holy Cross School in Lewiston I attended Hebron Academy in Hebron, Maine, a small private boarding and day school that just celebrated its Bicentennial (!), from whence I graduated in 1988. I am still very much interested in what's going on in the state of my spawning; for example, here's the current Maine weather forecast.
In the fall of 1988 I started at Wesleyan University in Middletown, Connecticut. Over the course of the next four years I discovered radio thanks to the campus station WESU, where my show Champagne Jam ran until May of 1994; stumbled across a really neat thing called the Internet; spent a year studying at the Ludwig-Maximilians-Universität München with Wayne State University's Junior Year In Munich program; and decided that despite a lifetime of preparation, the academic life was not for me. I graduated in 1992 with a B.A. in Medieval Studies and German Literature and absolutely no clue what the hell I was going to do with my life.
A few weeks after graduation threw me unsuspecting out into the real world I found a job temping at a teleservices company that was then located in Orange, but later on moved to Milford, CT. In August of 1994 I moved to Boonton, New Jersey to live in sin with woj for the rest of my days, but I continued to work at the same company in the Client Services department. I had a 200-mile round trip commute each day, which I did for more than three years. (Why yes, I was clinically insane at the time, why do you ask?) We moved back to New Haven in the fall of 1997, and have no plans to leave again. Despite what you may hear to the contrary, this is a great place to live!
Lots of changes happened at work, starting with the sale and name change of the company in August 2003. For various reasons I had been ready to pursue something different for quite some time, and in the summer of 2004 I finally got my chance. Since August I have been Tour Manager for Rachael Sage, one of my all-time favorite musicians. My friends had been asking me for years why I wasn't doing "something musical", since clearly my true love is live music and concert production and that sort of thing ... well, now I am! It's not the most lucrative profession, but it's way more fun than anyone is supposed to have working. Just in the first four months of the gig I visited five states I'd never seen before, and driven the length of I-5 from San Diego to Seattle. The tour is starting to take shape for this spring, and already there are several cities I've never been to. I'm looking forward to it immensely.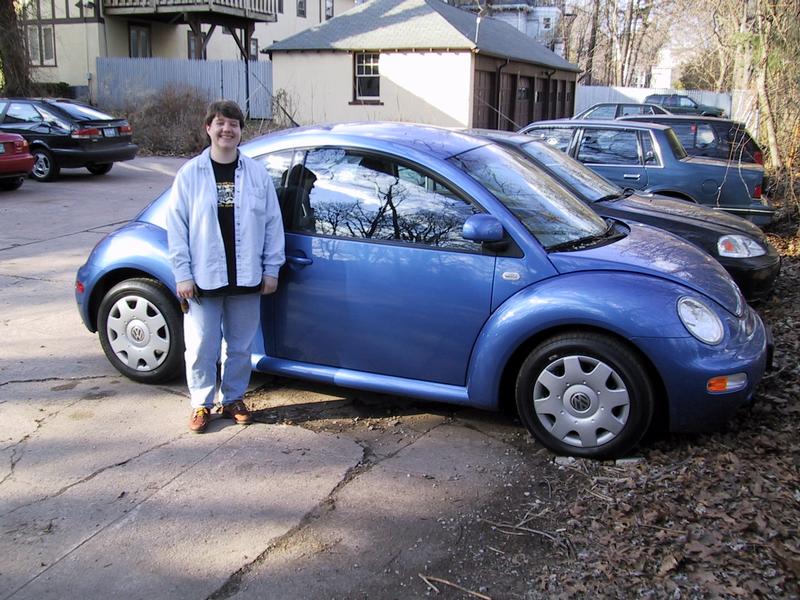 In March 2000, I added a 1999 Volkswagen Beetle to my life. In a couple months it'll be paid off, and by then it should have hit 100,000 miles. I still love my car, dings and all.
Our house is also known as woj-n-meth's House O'[name excised by a certain corporation's legal dept.], also smoe.central. One of these years we're going to catalog all of the CDs, tapes, and vinyl in the house. Scary, scary thought. (Then there's the books. Forget it.)
We're privileged to have a living room that's large enough to host musical performances: our living room concert series has featured Veda Hille, Sarah Slean, Sarah Harmer, Erin McKeown, Happy Rhodes, Nerissa Nields, and many more.
As indicated above, live music is my real passion. I'd happily see someone play every night if I could. Favorite venues are The Iron Horse Music Hall in Northampton, Massachusetts; The Living Room and Fez in New York City; and the Acoustic Cafe in Bridgeport, Connecticut.
In 1999, almost by accident my friend Chuck and I organized a musical event called ectofest. We put ourselves through this for three straight years, and in 2001 it even spawned a franchise: EctoFestWest, in Santa Cruz, California. I learned a lot about concert production doing this, and as a result I know not to do something like that on my own any more. :}
In 2000 I got involved in the New Haven Folk Alliance, which produces the New Haven Folk Festival just down the street from my house, as well as a Monthly Concert Series. In 2003 I found myself named the Monthly Concerts Coordinator, so I'm in charge of the production of the series. For the past couple years I've also been responsible for the first night of the Folk Festival, which has led to my taking on the position of Co-Director of the 2004 Festival, which takes place in September. (Gods help me.)
Also in 2000, I had the opportunity to do some roadie work for one of my all-time favorite musical artists, Susan Werner. It was an eye-opening experience, not to mention a lot of fun, and gave me the necessary experience to get my current job.
When I'm not working or attending concerts, I'm hanging out listening to music (either on the stereo or over the radio), watching good television,or doing the net.thing. Sometimes I even find time to read. I also avidly follow my local sports teams. In order of obsession: My favorite baseball teams are the Red Sox and whoever is playing the Yankees today. :) I still can't quite believe that the Curse has finally been reversed!! Then there's our two-time Super Bowl champs the Patriots. I am also a huge fan of the national championship UConn Huskies women's basketball team, and this year we got tickets to all of their Hartford home games, which has been fun. I also attend as many Connecticut Sun WNBA games as I can in the summer. Finally, I used to follow the Bruins, back in the days when the NHL still existed.
For a list of what I like to listen to, check out my deities page. I am also an avid listener and supporter of community radio: WPKN in Bridgeport; WFMU in East Orange, New Jersey, as well as WNHU at the University of New Haven, where I do the Wild Woman Radio show about once a month (the show airs on Saturdays from 4-6 pm on 88.7 FM). I haven't listened to commercial radio in years, and from what I understand my life is much the better for it.
On the idiot box, I never missed an episode of Buffy The Vampire Slayer (which eventually replaced Babylon 5 in my book as Best TV Show Ever), and I still miss it terribly. I'm still a hard-core fan of Xena:Warrior Princess, despite the fact that the show has been over for several years. (I can usually be found at the (in)famous, hopefully not defunct Xena Night at Meow Mix in New York City.) I am now a hardcore fan of the JJ Abrams shows Alias and Lost. I absolutely love Farscape, and will forever hold a grudge against the Sci-Fi Channel for brutally cancelling it before its time. I'm also a fan of South Park, and I never miss an episode of The Daily Show. (Jon Stewart for President!) ;). Otherwise, TiVo can usually be counted on to show me something interesting. My prayers were finally answered when our cable system picked up the Cartoon Network -- I love Space Ghost and the rest of the Adult Swim shows, as well as the Powerpuff Girls and of course Samurai Jack. And let's not forget Invader Zim!
The mailing lists I'm on are for the most part music-related: ecto, the Happy Rhodes mailing list (the web page for which I maintain; it's next on my overhaul list); Believers, the Susan Werner discussion list; and Passion, a list created by Ingrid Karklins for discussion of all sorts of things relating to and inspired by her music and now her poetry, since she seems to have left music permanently behind. I also run a few mailing lists of my own:Trajectory, for fans of the amazing Canadian singer and songwriter Veda Hille; chakram-refugees, which I started when Chakram, the original moderated mailing list for fellow Xenites went under; and the Nields Nook, for fans of The Nields.
As for reading material, the list of my favorite authors includes Jonathan Carroll, CJ Cherryh, Neil Gaiman, Maureen F. McHugh, Melissa Scott, Dan Simmons, and Judith Tarr. I mainly read Fantasy and SF. I also should mention that Charles deLint, Neal Stephenson, and Kate Elliott are pretty darned good, too.
So there you have it — a little bit about me. I bet your soul is all the more enriched for having read this. :)