my god, it's no longer full of crap!
That's right — for years my home page has been a bastion of inanity, not to mention the most embarrassing application of HTML ever. And thus I completely ignored it for 2.5 years. Well, kids, that's all changed now. I'm ten years older, and a hell of a lot wiser. Not to mention I have a slight clue how CSS works these days. The site may still be inane, but at least it looks better doing it!
You will find a lot of the same old stuff here for now, just spruced up a bit. Please take note of the new links to my LiveJournal and to my online portfolio.
And still our cat sleeps on!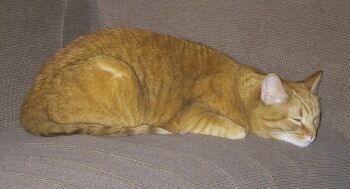 Tam Lin participated in the Sleeping Cat Olympics.
Enjoy your stay! Feel free to contact me at (remove "nospam" to e-mail).


[Previous 5 Sites | Previous | Next | Next 5 Sites | Random Site | List Sites ]