THE ASTRAL JANE:
Jane Siberry makes metaphysical pop with heart
by Carl Arrington
Rolling Stone, April 21 1994
---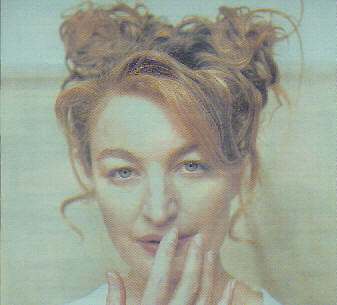 I was first arrested by the sight of Jane Siberry's hair. When she came onstage that winter's night at the Bottom Line, in New York, her coiffure was a double-bun affair that made her look like Star Wars' Princess Leia with a hair make-over by Jackson Pollock. The Canadian singer/songwriter looked like she was organically wired to receive interstellar transmissions from the Pleiades.
Two days later, Siberry is in Vancouver, British Columbia, tucked away in her favorite hotel, talking about music, life and love in the Jane Lane. Which turns out to be a very interesting place. It is eventide, and she is looking out the window on a harbor, where there is a boat. This boat has a green flashing light. "I am waiting for this man who tortures me," Siberry says with a lilt in her voice.
She does not reveal his name. "What form of torture?" I ask.
"Oooo," Siberry coos. "He just thinks he has all this power over me."
And he doesn't?
"Um, no, he does," Siberry says. "That's why I agreed to see him. I wrote him a goodbye letter about a year ago, but, well, I can't live in a state of fear, so I told him to come over. Anyway, I'm glad to be here -- with everything it brings."
That attitude is at the core of Siberry's life -- and her life's work. Best known as a musical empath-artiste who charts the postmodern maps of New Age ardor, she is frequently lumped into the company of such Mensa sirens as Kate Bush, Laurie Anderson, Tori Amos and fellow Canadian Joni Mitchell. Bright. Sexual. Wounded. Capable of anger. Confessional. Impatient with lazy truth.
But as if to purposefully distinguish herself from that ad hoc Alpha Omega sorority, Siberry titled her most recent album When I Was a Boy. It is her sixth album, and it took three years to finish (She actually finished another earlier but it was scrapped.) Boy is about death, transfiguration, angels and other core human experiences. On two tracks she worked with egghead extraordinaire Brian Eno. The album has some amazing, transcendent music on it.
"I think this record is more whole in a funny way," Siberry, 38, says. "It is more accessible to the people who drive red Camaros. It is also more masculine. Before, my work has always had a sense of graciousness and hospitality, like the good mother. I don't think I could be called a female singer/songwriter with this record."
Really?
"I would be more afraid now to meet me in a dark alley." Silence. "Really."
Before, Siberry was different. She grew up in luxury. Her father was the head of Merrill Lynch in Canada. She was a middle child (older sister, younger brother). She calls her youth "nondescript." "I was shut down," she says. "Horribly self-conscious."
Shy? "Shy equals fear," Siberry says.
Siberry's saving grace was music. "That was my safe place," she recalls. "For a long time I wouldn't play if anyone was around, because when you open up that much if anyone comes in to say, 'Hey, you haven't finished the dishes!' it was too great a shock to my system."
For a while, Siberry worked as a waitress, a job she took pride in. "I quite enjoyed making people feel good when it was the right place," she says, adding, "Sometimes even now, I want to be a waitress when I have had enough bad service. It pisses me off, and I want to do it the way I think it should be done."
Siberry started her singing career in 1981 as a coffeehouse performer in Toronto while studying microbiology. Understand her explanation of why and you will understand the essential nature of Siberry's work: "I chose microbiology to remove a veil of mystery that kept my hands tied as far as having to trust other people to know more than I did in explaining the physical universe. So I studied what we know about the physical universe at the micro-, most basic, level. Because then you are not dependent. You can draw from the bottom of the ocean right up as far as you want to."
Siberry travels in lofty circles these days. Two years ago, Peter Gabriel invited her to be among the hand-picked few he invites every fall to his recording studio in Bath, England. Her music has appeared on the soundtracks of two Wim Wenders films, Until the End of the World and Faraway, So Close. Of late, she has also become something of a filmmaker herself, shooting high-tech (but low-budget) videos to go with several songs from When I Was a Boy. And rather than mount a conventional tour for the album, Siberry made a round of appearances where she showed home movies, sang a bit, did a monologue and ended with a kind of town-hall question-and-answer session. She got glowing reviews.
"I feel solid like a rock now," Siberry says. A year ago she gave up drinking. Completely.
What will she do next? Expect the unexpected. "Last year," she says, "we were coming back on an airplane from a tour we'd been on. I had this sensation that there was this revelation that was approaching. It was just beyond my field of perception."
So?
"A veil was lifted between me and the spirit world for a short while. And like they say, there is no going back."
thanks to Evan Kimble for the printed copy of this article