The Milk of Human Kindness
from Creem magazine, Oct 1986
---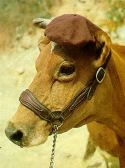 Successfully making the transition from summer stock and TV sitcoms to music videos is Buttermilk, a seasoned guernsey actress. The bovine scene-stealer appears in Jane Siberry's vid for "One More Color," the first single from her LP, The Speckless Sky.
Buttermilk's list of credits is impressive: in addition to a stage role in George Orwell's Animal Farm, she's appeared on Green Acres, Mr. Ed and -- most recently -- Let's Make A Deal. It may be premature to classify her with Elsie, but there's no doubt ol 'Milk's made the most substantial cow contribution to rock since Elvis sang a boogie-tribute to her race and Alison Moyet sang anything.
Rockers wishing to make hay while the sun shines can contact the attractive farm animal at (213) 469-2411. In light of her inexplicable exclusion from Farm Aid and the cover of the latest Smiths' album, sanguine critics fear her agents may be negotiating with McDonald's in an attempt to expose Ms. 'Milk to as wide an audience as possible.