Home Page | Resources Page | Information Page | Fan Page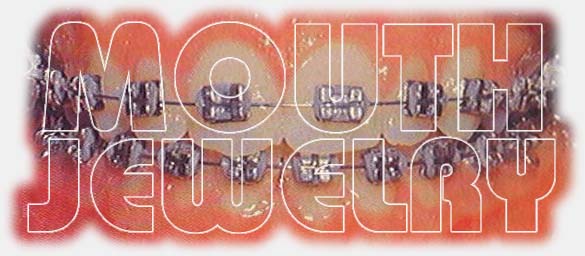 Mouth Jewelry
the historic Web site all about orthodontic appliances (braces)
Contents | Introduction | What's New | New Ideas | General Feedback
---
Introduction
You have braces?
You like braces?
Whatever brought you to this site, I'm sure we have something for you.
There's plenty of information for people who have braces as well as for people who like the sight of braces.

What we need now is:
more visitors! Tell your friends of this place!
more information for all sections on this site (see Feedback)
new creative ideas (see Ideas for new sections)
Yours,

Mark - administrator of this site.
[ Go to menu ]
What's New:
There's a new section on the Fan page: Fake Braces. Now you can order your own set of braces.
[ Go to menu ]
Ideas for New Sections:
Here are some ideas for new sections on this page. Please tell me what you think of them and contribute!
Braces Aliases : What do you call braces or people who have them? "Mouth Jewelry" is just one example, "The Walking Wired" another
Other : Any other ideas? Send me email!
[ Go to menu ]
General Feedback:
For contribution of braces resources please use the Contribution Form on the Resources Page.

to tell me what you think of this page or if you have some new ideas.

[ Go to menu ]

Home Page | Resources Page | Information Page | Fan Page
---
Page designed by Mark Master.
Background MIDI music: "Forrest Gump" theme by Rick Ho
Document version: 2.03 - Last updated: November 23rd 1997